I'm going through my new issue of
Special Events Mag
, they have a really fun article surrounding their 25th birthday, it's called "It's 2032... How's Your Event?" Here is some amusing, sometimes goofy, Q&A they gathered with event professionals across the country (mostly Cali):
"In 2032 what will event food be?- "Food will be tiny morsels that are fat- and calorie-free, taste like whatever fattening food you choose, and be good for you all at the same time. There will be different price points for different levels of flavors - we can't let a shrimp bite out the door at the same price as a pretzel bite. Buffets are non-existent and everything is served from moving kiosks, where you can make your selection, and it is served up on the spot."
Ruth Moyte, Extraordinary Events, California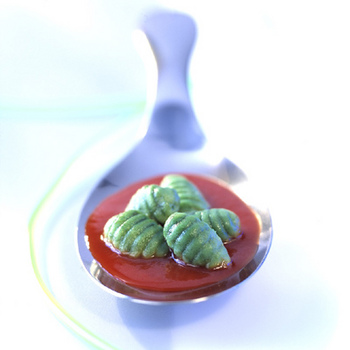 Looks like gnocchi is in our future
What will we use for invitations? - "Who has time for those anymore? At the press of a button, or even just thinking a thought, the host's face will appear in front of the invitee via hologram and give a personal invite." Tom Bercu, Tom Bercu Presents, Los Angeles, CA
What will event beverages be?- "All harmful side effects of alcohol will be genetically removed from the base liquid, leaving only the pleasant after-effects. By far the most expensive and rare beverage will be fresh spring water." Carl George, Luxevents, Los Angeles, CA
What events will we be celebrating?
"Incentive trips on the space shuttle." Matt Brown, Harith Productions Ltd., Willow Grove, Pa."
HERE
is a link to the full article! I think in 2032, hmm... hopefully we will have those awesome
Black & Decker Hydrators
, like in Back to the Future Part II. How
Epcot Center
of us! We will still be looking for ways to throw the newest, the next, the best parties though, that will never change!
Back to the Future (food)
Uploaded by donaldtheduckie

photos by Special Events Magazine